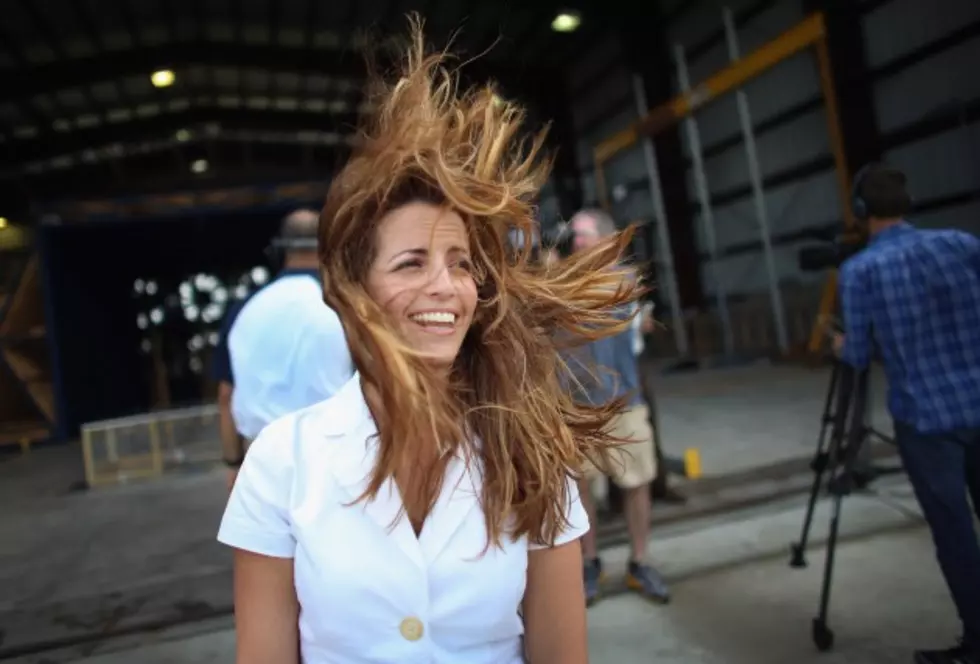 A Mixed Bag of Weather Is Headed Our Way, It's Going to Be Windy Today!
Joe Raedle, Getty Images
Springtime in the Rockies! It's like a box of chocolates, you never know what you're gonna get. A couple of things to keep in mind today and this evening.
...VERY WINDY TODAY...

AN APPROACHING WEATHER SYSTEM WILL INCREASE THE PRESSURE GRADIENT
AND THIS WILL IN TURN INCREASE THE WIND TODAY. A SOUTHWEST TO WEST
WIND OF 25 TO 35 MPH WILL BE COMMON WITH GUSTS TO 45 MPH. LOCALLY
HIGHER WIND SPEEDS WILL OCCUR ON OUTER DRIVE ON THE SOUTH SIDE OF
CASPER WHERE WIND GUSTS AROUND 50 MPH WILL BE POSSIBLE. THE WIND
WILL DECREASE BY SUNSET TO 15 TO 25 MPH.

LIGHT WEIGHT AND HIGH PROFILE VEHICLES SHOULD EXERCISE CAUTION ON
AREA ROADWAYS.

Here's a breakdown of the potential weather system.
ABSAROKA MOUNTAINS-BIGHORN MOUNTAINS SOUTHEAST-
BIGHORN MOUNTAINS WEST-CASPER MOUNTAIN-CODY FOOTHILLS-
EAST SWEETWATER COUNTY-FLAMING GORGE-
GREEN MOUNTAINS AND RATTLESNAKE RANGE-JACKSON HOLE-LANDER FOOTHILLS-
NATRONA COUNTY LOWER ELEVATIONS-NORTH BIG HORN BASIN-
NORTHEAST JOHNSON COUNTY-OWL CREEK AND BRIDGER MOUNTAINS-
ROCK SPRINGS AND GREEN RIVER-SALT RIVER AND WYOMING RANGES-
SOUTH LINCOLN COUNTY-SOUTHEAST BIG HORN BASIN-
SOUTHEAST JOHNSON COUNTY-SOUTHWEST BIG HORN BASIN-STAR VALLEY-
TETON AND GROS VENTRE MOUNTAINS-UPPER GREEN RIVER BASIN-
UPPER GREEN RIVER BASIN FOOTHILLS-UPPER WIND RIVER BASIN-
WIND RIVER BASIN-WIND RIVER MOUNTAINS EAST-WIND RIVER MOUNTAINS WEST-
YELLOWSTONE NATIONAL PARK-
400 AM MDT TUE MAR 24 2015

...WINTER WEATHER ADVISORY FOR MOST OF THE WESTERN MOUNTAINS THIS
AFTERNOON AND TONIGHT...

...WINTER WEATHER ADVISORY FOR THE BIGHORN MOUNTAINS FROM 6 PM TODAY
TO 9 AM WEDNESDAY...

THIS HAZARDOUS WEATHER OUTLOOK IS FOR WESTERN AND CENTRAL WYOMING.

.DAY ONE...TODAY AND TONIGHT

SIGNIFICANT SNOW AND WIND OVER THE WESTERN MOUNTAINS TODAY...SHIFTING
INTO THE BIGHORN MOUNTAINS TONIGHT. SOME ACCUMULATING SNOW WILL
OCCUR IN THE LOWER ELEVATIONS OVER THE WEST TODAY...SHIFTING EAST OF
THE DIVIDE LATE THIS AFTERNOON AND EVENING. STRONG WINDS WILL
CONTINUE OR DEVELOP OVER MUCH OF THE AREA. PLEASE SEE THE WINTER
WEATHER ADVISORY AND SPECIAL WEATHER STATEMENT FOR MORE DETAILS.

.DAYS TWO THROUGH SEVEN...WEDNESDAY THROUGH MONDAY

WEDNESDAY...ISOLATED TO SCATTERED SNOW SHOWERS WILL CONTINUE
ESPECIALLY ALONG AND EAST OF THE DIVIDE. THE HEAVIEST SNOWFALL IS
EXPECTED TO OCCUR ACROSS THE BIGHORN MOUNTAINS WEDNESDAY MORNING.

SATURDAY...ELEVATED TO EXTREME FIRE WEATHER CONDITIONS POSSIBLE WHERE
FUELS ARE CRITICAL DUE TO WARM...DRY AND BREEZY CONDITIONS EXPECTED.

.SPOTTER INFORMATION STATEMENT...

SPOTTERS ARE ENCOURAGED TO REPORT SNOWFALL AMOUNTS AND ANY
SIGNIFICANT WINDS ABOVE 45 MPH.