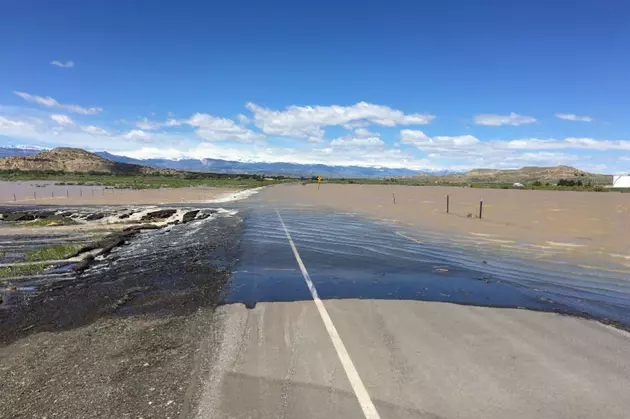 UPDATE: Waters Recede – 26 and 132 Reopened
WYDOT
UPDATE: Wyoming Department of Transportation officials reopened US 26 and Wyoming 132 Monday afternoon after flood waters receded.
"We believe we're in pretty good shape with the receding flood waters," said WYDOT District Engineer Pete Hallsten of Basin. "We are seeing several areas on each highway, near bridges, where this spring's flood waters seem to be wanting to flow in new areas and create new channels which may have long-term impacts on a handful of highway bridges."
=========================================================
Officials with the Wyoming Department of Transportation on Monday closed another road near Riverton due to continued flooding in central Wyoming.
Highway 132, 20 miles west of Riverton near Kinnear is shut down, but a detour through Lander on U.S. 287 provides drivers with another way through the area.
On Saturday night, officials closed U.S. 26, 30 miles west of Riverton near Morton, also because of flooding.
"The river is moving a lot in that area," Pete Hallsten, district engineer for WYDOT said in a statement. "There was an intense, long duration rainstorm that started Friday night and lasted around 10 hours in the area of Pinedale, Union Pass and Dubois that may be impacting the river."
WYDOT has erected barricades near the impacted areas, preventing drivers from entering. Department employees are on site to help direct traffic to the detour.
Travelers heading east from Jackson to the Riverton area will use U.S. 26-287 into Lander, where they'll then take WYO 789 north toward Riverton.
Motorists heading west toward Jackson from Jeffrey City and Sweetwater Station Junction on U.S. 287/WYO 789 should remain on that highway and drive through Lander.
About a mile from the closure, WYDOT is also using dynamic messaging signs and radio broadcasts on AM 1610 to advise motorists driving near Shoshoni on U.S. 26/WYO 789 to avoid WYO 134 and instead head south toward Lander.
"WYDOT appreciates everyone's patience during this situation," Hallsten said. "People will still be able to get to their destinations through the detours WYDOT has in place."