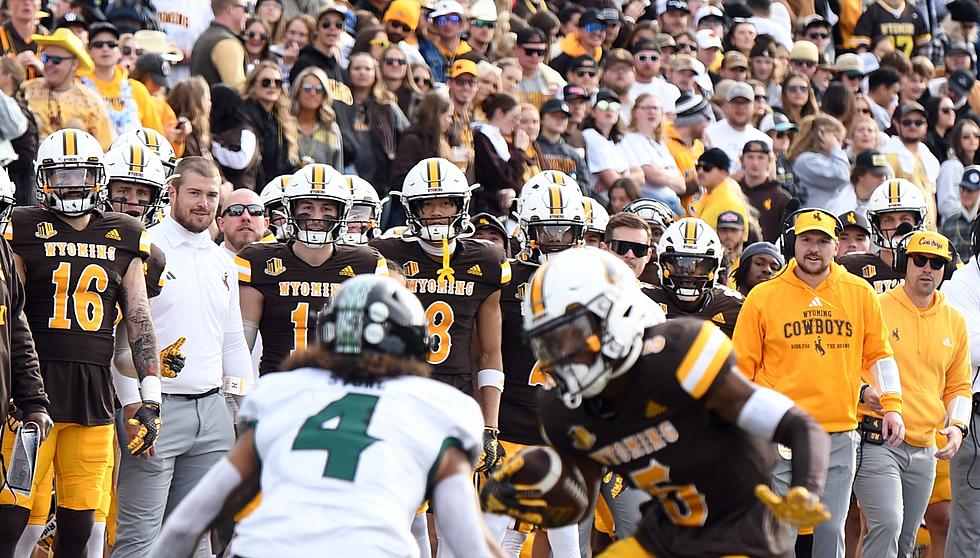 Pokes Blast 'Bows 42-9, Remain Perfect at Home
Wyoming's sideline looks on as wide receiver Ayir Asante jukes former Cowboy Cam Stone./ DJ Johnson photo
* University of Wyoming press release
LARAMIE -- An explosive first half by Wyoming's offense and a smothering Cowboy defense fueled a 42-9 victory for the Wyoming Cowboys over Hawai'i in the final home game of the 2023 season.
Wyoming scored five touchdowns on its first six possessions of the first half, while the Poke defense shutout the Rainbow Warriors in the first half to build a 35-0 halftime lead.
Wyoming's five first-half scoring drives included numerous big plays as the Cowboys' scoring drives consisted of 3 plays for 75 yards, 1 play for 89 yards, 6 plays for 69 yards, 4 plays for 66 yards and 3 plays for 39 yards.
The Pokes improved their record to 7-4 on the season and 4-3 in the Mountain West Conference. Hawai'i's record now stands at 4-8 overall and 2-5 in the Mountain West.
Quotes From Head Coach Craig Bohl:
Head coach Craig Bohl was asked after the game how special this day was for his team and for the seniors, who were playing in their final home game.
"It was really special and we're really pleased with how we came out," said Bohl. "It was going to be important for us to start fast, and we certainly did that. Our passing game was explosive, and we came up with some big plays on defense.
"Hawai'i is a prideful football team. We knew that they would fight, but the first half, I think, really secured this victory."
Bohl was asked how excited he was for the play of quarterback Andrew Peasley in Saturday's win. Bohl responded, "I certainly am (excited). He played gutty last week (at UNLV), but he was displeased with his performance in that game. He's a winner, and I thought he played great today."
Both the Cowboy offensive and defensive lines played key roles in Wyoming capturing Saturday's victory, as well as the Pokes winning the turnover battle.
"It was going to be critical for us to win in those areas," said Bohl. "The way that Hawai'i's offense is structured, it was going to be important for us to establish our defensive line to make them one dimensional, and we were able to do that. We got some good push in the running game on offense today."
Finally, Bohl was asked what it meant to his team to go undefeated at home and to see Wyoming fans set a new home attendance record.
"It means a lot -- credit our fans," said Bohl. "I think we have a phenomenal home-game atmosphere, and particularly the students. That's one of the things that is great about college football and one of the things that is great about the state of Wyoming."
Cowboy Notes From Saturday:
∙Wyoming completed a perfect 7-0 home record with Saturday's win over Hawai'i. It is the first time in War Memorial Stadium history that the Cowboys won seven home games in a single season. It is the 15th undefeated regular-season home record in War Memorial history and the third in the Bohl era. The 2019 and 2016 Cowboy teams posted perfect 6-0 home records in the regular season.
∙Wyoming fans set a new War Memorial Stadium single-season attendance record this season. With a crowd of 18,233, the 2023 season attendance total finished at 162,144, breaking the previous record of 149, 625 set in a seven-game home season in 1990.
Top Home Attendance Seasons in War Memorial Stadium History:
1. 162.144 in 2023 (7 home games)
2. 149,625 in 1990 (7 home games)
3. 148,860 in 2016 (7 home games)
4. 144,299 in 2017 (7 home games)
5. 142,516 in 1988 (6 home games)
6. 138,042 in 2019 (6 home games)
The 42 points scored by Wyoming were the most this season and the most that UW has scored since the 2021 Famous Idaho Potato Bowl when the Cowboys scored 52 points in a 52-38 win over Kent State. The Pokes previous high this season was 35 in a 35-33 double overtime win over then No. 24 Texas Tech and a 35-26 home win over New Mexico.
The Cowboy defense held Hawai'i to only 9 points, which is a season low allowed to an opponent. The previous season low for a UW opponent was 15 points by Colorado State in a 24-15 Wyoming win. The last time Wyoming held an opponent to under 10 points was the 2020 season, when UW held Hawai'i to 7 points in a 31-7 Wyoming home win.
The 33-point margin of victory (42-9) for Wyoming was its largest since Sept. 18, 2021, when the Pokes defeated Ball State by 33 points (45-12) in War Memorial Stadium.
Wyoming's 472 yards of total offense was a season high. The previous high this season for the Cowboys was 433 total yards vs. New Mexico.
UW's 319 passing yards were also the most for the Pokes this season. Wyoming had 212 passing yards at Air Force earlier this season for their previous best.
Cowboy quarterback Peasley played a near flawless game against Hawai'i, completing 14 of 17 passes (82.4 percent) for 319 yards and three touchdown passes. Both his 82.4 completion percentage and his 319 passing yards were career highs for Peasley during his Wyoming playing career. His previous career bests were an 78.3 completion percentage (18 of 23) against Air Force in 2022 and 256 passing yards vs. Tulsa in 2022.
Linebacker Easton Gibbs recorded another double-figure tackle game on Saturday, recording 11 tackles. It was Gibbs fifth double-digit tackle game this season and the 18th of his career. He has 101 tackles for the 2023 season. Gibbs now has 354 career tackles as a Cowboy. With his 11 tackles vs. Hawai'i, Gibbs moved into eighth place on the Wyoming career tackle list, passing former Cowboy linebacker greats Lucas Wacha (344 career tackles) and Ken Fantetti (352 career tackles).
Wyoming tight end John Michael Gyllenborg had a career day in terms of receiving yards on Saturday, catching three passes for 128 yards and one touchdown. His previous career best was 40 receiving yards vs. Air Force earlier this season. His 89-yard touchdown reception from Peasley was the longest for a Cowboy duo since quarterback Cam Coffman threw a 92-yard TD pass to wide receiver Tanner Gentry vs. North Dakota in the 2015 season.
Hawai'i Series Notes
Saturday's meeting between the Wyoming Cowboys and Hawai'i Rainbow Warriors was the 28th in history between the old rivals.
Wyoming leads the overall series 17-11 and also leads in games played between the two teams since both have been members of the Mountain West Conference. The Cowboys lead the MW series 5-3.
The two teams have played for the Paniolo Trophy 27 times. Wyoming leads that portion of the series 17-10.
In the 13 games played in the series in Laramie, the Pokes hold a 9-4 advantage.
First Quarter
On the opening possession of the game, Wyoming came out throwing the football as quarterback Peasley connected with running back Harrison Waylee for an 11-yard pass on the first play of the game. A facemask penalty against Hawai'i added 15 yards to the play and Wyoming had already crossed the 50-yard line to the Hawai'i 49. Waylee carried the ball five yards on the second play of the possession to the Rainbow Warrior 44-yard line. Peasley dropped back on the third play and threw deep for wide receiver Ryan Marquez, who had gotten behind the defense, for a 44-yard touchdown pass. Place-kicker John Hoyland added the extra point and with exactly one minute gone in the game the Cowboys held a 7-0 lead.
Hawai'i was able to gain a first down on their first possession, but the Cowboy defense forced the Rainbow Warriors into a punt at the UW 39-yard line. Following the Hawai'i punt, Wyoming took over at its own 11-yard line.
Wyoming's offense remained aggressive on first down as Peasley connected with tight end Gyllenborg at the Wyoming 40-yard line on the near sideline and Gyllenborg took it the distance for an 89-yard touchdown reception. Hoyland's PAT extended Wyoming's lead to 14-0 with 10:58 remaining in the first quarter.
The Rainbow Warriors would respond with their best drive of the first quarter, driving 73 yards in 13 plays. Hawai'i generated seven big plays on the drive, including three passes of nine yards, three runs of nine yards and a run of 12 yards to move the ball all the way down to the Wyoming two-yard line. Facing a fourth and goal at the Wyoming two, Hawai'i decided to go for the touchdown, but the Cowboy defense came up with a big stop led by linebacker Gibbs, who tackled Hawai'i quarterback Brayden Schager for no gain, and the Pokes took over on downs.
The Cowboys began their third possession of the first quarter with 3:03 remaining in the period. The first quarter would end with the score, Wyoming 14, Hawai'i 0. UW generated 180 yards of total offense in the first quarter (144 passing and 36 rushing). Peasley was a perfect 3 for 3 passing with two touchdown passes. The Poke defense held Hawai'i to 92 total yards in the quarter (38 passing and 54 rushing).
Second Quarter
Wyoming' final first-quarter possession would carry into the second quarter and would result in the Cowboys' only punt of the first half.
UW's defense forced Hawai'i into a three-and-out on the Rainbow Warriors' next possession and following a UH punt the Pokes took over at their own 31-yard line. After runs of seven and five yards by running back Jamari Ferrell, Peasley completed a pass across the middle to wide receiver Gunner Gentry for 17 yards. Two plays later, he Cowboy quarterback would find tight end Gyllenborg on the right sideline for 12 yards to move the ball to the Hawai'i 28-yard line. On the sixth play of the drive, Waylee would run to the left-side of the Cowboy offensive line and break loose for a 28-yard TD run and give the Pokes a 21-0 lead with 9:57 remaining in the second quarter.
Wyoming's defense forced Hawai'i into another three-and-out series on the Rainbow Warriors first possession of the second quarter and following the UH punt the Poke offense began at the Wyoming 34-yard line.
Peasley completed a 13-yard pass to wide receiver Ayir Asante on first down. Peasley then ran for three yards on the second play of the possession. Peasley connected with tight end Treyton Welch for 10 yards to move the ball to the Hawai'i 40-yard line. On the fourth play of the drive, Peasley looked deep down the right sideline and found wide receiver Wyatt Wieland at the UH 18-yard line. Wieland took it the distance, scoring a 40-yard touchdown to build Wyoming's lead to 28-0 following Hoyland's extra point kick, with 5:56 to go in the half.
Hawai'i gained 18 yards on six plays on its next possession, when the Cowboy defense came up with another big play when cornerback Jakorey Hawkins intercepted Hawai'i QB Schager at the Wyoming 35-yard line. Hawkins returned the interception 26 yards to the Hawai'i 39.
Peasley went right back to the air, finding Gyllenborg deep down the right sideline for 27 yards to the UH 12-yard line. Peasley connected with wide receiver Asante for six yards on the next play. On a first and goal at the Hawai'i six-yard line, Peasley handed the ball off to Asante on a jet sweep and Asante got to the edge for the touchdown. Wyoming led 35-0 with 2:35 remaining in the half.
MORE UW FOOTBALL NEWS VIA 7220SPORTS:
* Rants & Raves: Hawaii Edition
* Turning point, unsung hero and what's next for UW football
* Behind the numbers: Wyoming vs. Hawaii
* Live File: Hawaii Rainbow Warriors at Wyoming Cowboys
* 7220sports.com Kickoff Show: Will Bohl be back in '24?
* Gear up for game day: Hawaii
* Know Wyoming's Foe: Hawaii Rainbow Warriors
* Around the MTN: UNLV QB Jayden Maiava the real deal
* Cowboys, Hawaii battle for Paniolo Trophy at noon Saturday
* Wyoming's battered, bruised Cole Godbout 'gutting it out'
* Wyoming Cowboys in the NFL: Week 10
* Wyoming Football: News and notes ahead of Hawaii
Hawai'i would proceed to engineer a five-play, 67-yard drive on the ensuing possession and entered the red zone for the second time in the first half. On a second and one at the Wyoming eight-yard line, Schager attempted a pass to wide receiver Steven McBride, but Cowboy cornerback Tyrecus Davis intercepted the pass at the goal line for a touchback and Wyoming took over at its own 20-yard line with only 1:04 to go in the half. The Pokes ran out the clock and took a 35-0 lead into the locker room.
As the first half came to a close, Wyoming accounted for 361 yards of total offense (269 passing and 92 rushing), while Hawai'i was held to 190 yards of total offense (136 passing and 54 rushing). The Cowboys averaged an impressive 13.4 yards per play. The Poke defense created two turnovers -- both on interceptions. Wyoming didn't commit a single penalty in the first half.
Peasley completed 10 of 11 passes for 269 yards and three TDs in the first half. Tight end Gyllenborg caught three passes for 128 yards, including an 89-yard TD reception. Graduate wide receivers Marquez and Wieland each caught a touchdown pass. Fellow wide receiver Asante had a rushing TD and running back Waylee scored UW's other rushing touchdown.
Defensively, each of Wyoming's cornerbacks, Hawkins and Davis, intercepted a pass and linebacker Gibbs led the Pokes with eight first-half tackles.
Third Quarter
Hawai'i took the opening kick of the second half but was held to 16 yards on six plays by the Cowboy defense and UH had to punt. Wyoming took over at its own 36-yard line. Peasley found tight end Welch on first down for eight yards, but at the end of the play UH safety Justin Sinclair ripped the ball out of Welch's hands and then Sinclair returned the fumble nine yards to the Wyoming 25-yard line.
Hawai'i would move the ball 19 yards down to the Wyoming six-yard line when on a second and goal at the six, Cowboy linebackers Gibbs and Shae Suiaunoa would combine for a 15-yard sack of UH quarterback Schager back to the Wyoming 21-yard line. Schager would complete an eight-yard pass to the UW 13-yard line, but facing a fourth and goal at the 13 the Rainbow Warriors decided to go for a field goal. Place-kicker Matthew Shipley came in and converted a 30-yard field goal to give Hawai'i its first points of the game and make the score 35-3 in favor of Wyoming.
On Wyoming's next possession, Hawai'i's defense forced the Cowboys into their first three-and-out series of the game and the Pokes were forced to punt for only the second time on the day.
Following a 41-yard punt by Wyoming's Clayton Stewart, Hawai'i took over at its own 29-yard line. Hawai'i would proceed to put together a 71-yard drive in 13 plays on its ensuing drive. During the drive, Schager would generate four explosive pass plays of over 10 yards. He would connect with running back Solo Vaipulu on an 11-yard pass. Later in the drive, Schager found wide receiver Chucky Hines for 12 yards. The Rainbow Warrior QB would then find wide receiver McBride for 19 yards. On a third and 13 at the Wyoming 19-yard line, Schager connected with Hines again -- this time for 19 yards and a touchdown. Hawai'i would attempt a two-point conversion, but Cowboy safety Isaac White would knock the pass attempt down to make the score 35-9 with only 59 seconds remaining in the third quarter. Wyoming would run two plays to end the third quarter, including a 15-yard first-down run by Waylee on the final play of the period.
Fourth Quarter
The Pokes began the fourth quarter with a first down at its own 42-yard line. Peasley would find Asante later in the drive on a 28-yard pass play, moving the ball down to the Hawai'i 26-yard line. Following a two-yard sack of Peasley, a run by Waylee for no gain and an incomplete pass, Cowboy place-kicker Hoyland came in to attempt a 46-yard field goal, but the kick went wide left and the score remained 35-9 in favor of Wyoming.
Both teams' defenses forced three-and-out series by their opponents on the following two drives. After a 51-yard punt by Wyoming's Stewart that pinned Hawai'i back at its own 12-yard line, UH gained one first down but the Cowboy defense stiffened again and forced Hawai'i into a fourth and six at the Rainbow Warrior 27-yard line. Hawai'i went for it on fourth down, with Schager throwing deep down the field but the pass was incomplete and Wyoming took over on downs at the UH 27.
UW's Waylee rushed for three yards on first down, followed by a six-yard run by Peasley and a rush for no gain by Farrell. On a fourth and one at the UH 18-yard line, back-up quarterback Evan Svoboda entered the game and took off over the left-side of the Wyoming offensive line for 18 yards and a touchdown for the first touchdown of his Wyoming career. Hoyland's kick made the score 42-9, with 4:51 remaining in the game.
Hawai'i had one final possession that also ended in a failed fourth down-attempt deep in their own territory, and Wyoming took possession at the Hawai'i 29-yard line. Wyoming ran four plays and turned the ball back to Hawai'i at the UH 14-yard line with only 45 seconds left on the clock. The Rainbow Warriors ran three plays and the game ended with Wyoming finishing off a perfect 7-0 home record, with a 42-9 victory to improve to 7-4 on the season and 4-3 in the Mountain West Conference.
Up Next
Wyoming will travel to Reno, Nev. to face the Nevada Wolf Pack next Saturday, Nov. 25. The Wyoming-Nevada game is scheduled for a 7 p.m., Mountain Time kickoff and will be televised on CBS Sports Network, as well as being broadcast on radio over the Cowboy Sports Network, beginning with the pregame show at 5:30 p.m.
LOOK: Pokes' unis through the years