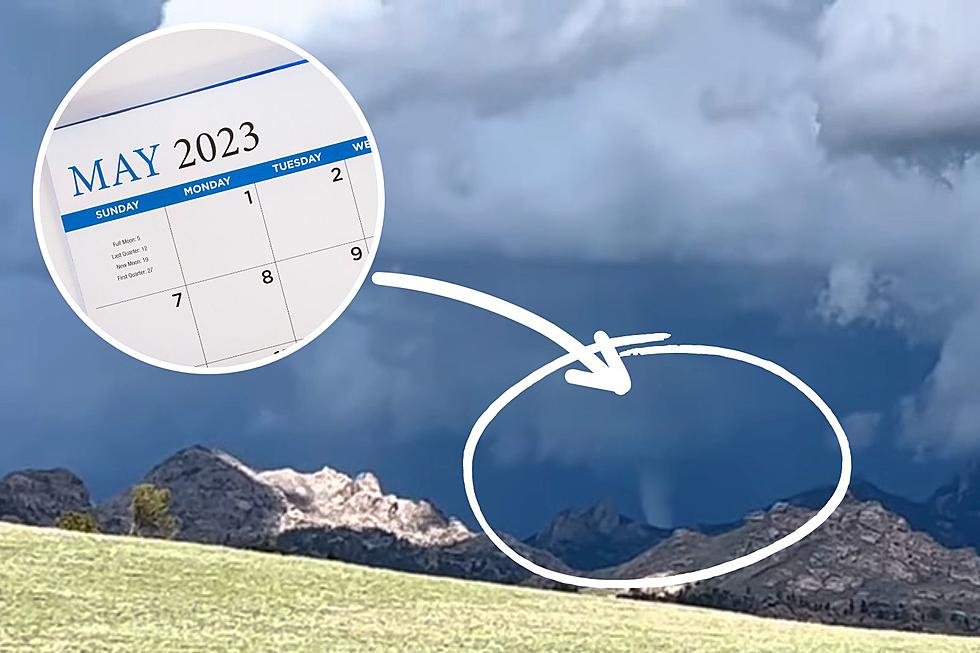 Is It Normal for Wyoming to Have Multiple Tornadoes in May?
Drew Kirby, TSM/Canva Pro
May weather in Wyoming has been pretty wild this year. We've had buckets and buckets of rain, wicked hail storms, flash flooding, and balmy heat typically associated with June. And on top of that, we've had tornadoes.
Now, an errant May tornado isn't abnormal here in Wyoming. But it seems like we've had more landspouts and twisters this spring than normal.
Is Wyoming Experiencing Abnormal Tornado Activity?
As of today, Wyoming has experienced at least four recorded landspouts between Laramie, Cheyenne, and Casper. CBS Colorado also reports the possibility of two full-blown tornadoes near Douglas, Wyoming.
The worst tornadoes to strike the Cowboy State in documented history occurred in June, July, and August. Cheyenne residents may remember the tornado, generally known as the biggest to hit Wyoming, that swept through the city on July 16, 1979. May isn't a month where devastating tornados typically occur, based on existing data.
RELATED: EXCLUSIVE FOOTAGE OF LARAMIE PEAK FUNNEL CLOUD
However, according to meteorologist Don Day, spring is the optimal time for tornadoes in Wyoming. Don explained, "Springtime is when we do tend to see landspouts more frequently, along with tornadoes. [The] season for both is usually late May into early September. [Wyoming] tends to have landspouts more frequently in spring when the air is more moist, and they are easier to see."
So, seeing tornadoes and landspouts more frequently in May isn't abnormal. With this in mind, it's important to stay up to date on tornado safety for yourself, your family, and your pets. Here are some steps to take when there's a risk of a tornado,
courtesy of NOAA
:
Indoors:

Go to the lowest floor of the building. Find a hallway, interior closet, or stairwell with no windows.
Crouch or sit on the floor.
Cover the base of your skull with your hands or something soft.

Outdoors:

If unable to get indoors, seek the lowest point on the ground around you. Get as far away from trees, cars, or debris as possible. Lie flat and face down on the ground.
Cover the back of your neck/head with your hands and arms.

Vehicles:

Avoid sheltering in a vehicle, which can prove dangerous in the event of a tornado. Vehicles can be blown away from the road; glass can be shattered by debris, etc.
Though tornadoes are normal this time of year, it seems the tornadoes and landspouts we've been seeing just add to the level of crazy of our May weather this year. One can only wonder what June and July will bring to the Cowboy State.
May 24 Landspout Spirals Over Cheyenne
A landspout - a type of tornado that is
"smaller and weaker than tornadoes produced by supercells"
appeared within city limits on May 24, 2023, shocking residents. The spout was visible over Dell Range Blvd. In response to the spout, F.E. Warren Air Force Base issued a warning on the base urging occupants to seek shelter.
Several Cheyenne residents captured the landspout on camera. Did you see the would-be twister appear over Cheyenne?