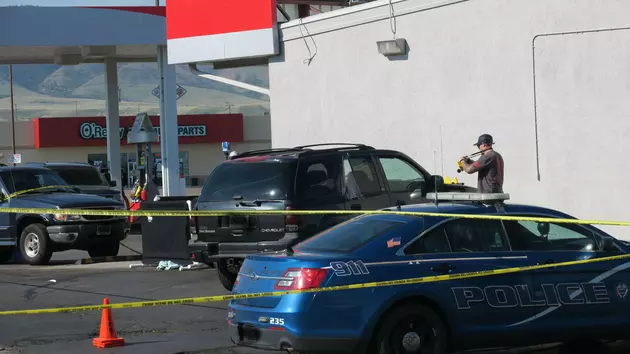 Natrona County Coroner Identifies Man Killed In Police Shooting On Tuesday
Tom Morton, Townsquare Media
The 21-year-old man who was shot and killed by a Casper Police Officer on Tuesday has been identified as William T. McCollum of Casper, according to a news release from the Natrona County Coroner's Office on Thursday.
Wednesday, the office said it would wait to identify him until his family members had been notified.
The office also said an autopsy would be performed this week.
The incident started at 5:37 a.m. Tuesday when the Public Safety and Communication Center received multiple 911 calls from the 500 block of Granite Drive in east Casper where callers reported a male subject had pointed a firearm at several people, according to a news release from the Casper Police Department.
Casper Police immediately responded, but learned the suspect, identified Thursday as McCollum, fled the area in a late-model silver sports car.
Officers learned from interviews that the suspect indeed had threatened people by pointing a gun at them.
At 5:46 a.m., law enforcement located the car, but McCollum again escaped from officers.
Half an hour later, the vehicle was seen in Evansville.
Law enforcement began to chase the car as it re-entered Casper, traveling west at a high rate of speed on East Second Street toward downtown.
Police department supervisors told officers to not chase the vehicle because the driver was placing the public in danger.
At 6:31 a.m., an off-duty Natrona County Sheriff's deputy reported the suspect vehicle was parked at the Loaf 'N Jug store at CY Avenue and Kit Carson.
A police officer immediately responded and arrived within a minute.
When he got there, he contacted McCollum who had a gun and shots were exchanged.
The suspect was seriously injured and medical personnel tried to save him, but he was pronounced dead at the scene.
No officers were hurt during the incident.
The Casper Police Department turned over the case to the Wyoming Division of Criminal Investigation, which will ultimately release the results to the Natrona County District Attorney's Office.
This marked the third Casper Police officer-involved fatal shooting this year.