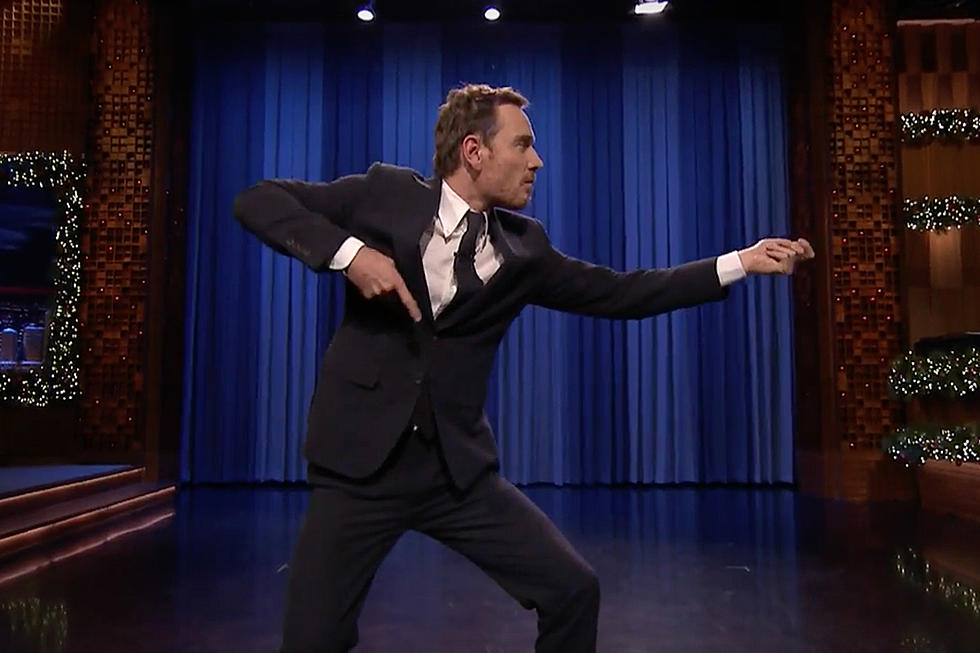 Watch Actor Michael Fassbender Rock Ozzy Osbourne Classic in 'Tonight Show' Air Guitar Battle
YouTube: Tonight Show
If you had to take part in an air guitar battle, what songs would you choose? On Tuesday's Tonight Show Starring Jimmy Fallon, both the host and actor Michael Fassbender decided upon some rock classics.
Fallon got to go first, choosing the Thin Lizzy favorite "The Boys Are Back in Town," shuffling across the stage to taunt Fassbender with his air guitar skills. The actor threw Fallon for a loop strapping on his imaginary guitar, opening by taking on the bass parts of Ozzy Osbourne's "Crazy Train" before taking the bass off and switching back to guitar for the opening licks. Letting his head roll as the guitar licks played, Fassbender fully embodied the guitar role.
The pair then decided to wrap the bit with a guitar duet in which Fassbender was actually playing "air banjo" as they collaborated on "Dueling Banjos," complete with a humorous tune-up.
If it seemed like Fassbender knew what he was doing, it's because he has a bit of a past in music. He actually touched on his metal past in his interview with Fallon before the air guitar battle, and he once told Independent Woman that he had a band as a teenager, complete with "hair down to my chest, ten-hole Dr. Martens [shoes] and combat shorts cut at the knee." As for his favorite music, he responded, "Metallica, Sepultura and anything off Slayer's Reign In Blood." He later added, "I love the bit in 'Seasons In The Abyss' by Slayer, and I worked hard to learn Megadeth's 'Rust In Peace' when I was younger."
Fassbender was appearing on The Tonight Show to promote his new film, Assassin's Creed, which arrives on Dec. 21.
See Where Ozzy Osbourne Ranks Among the Top 66 Hard Rock + Metal Frontmen of All Time
10 Unforgettable Ozzy Osbourne Moments