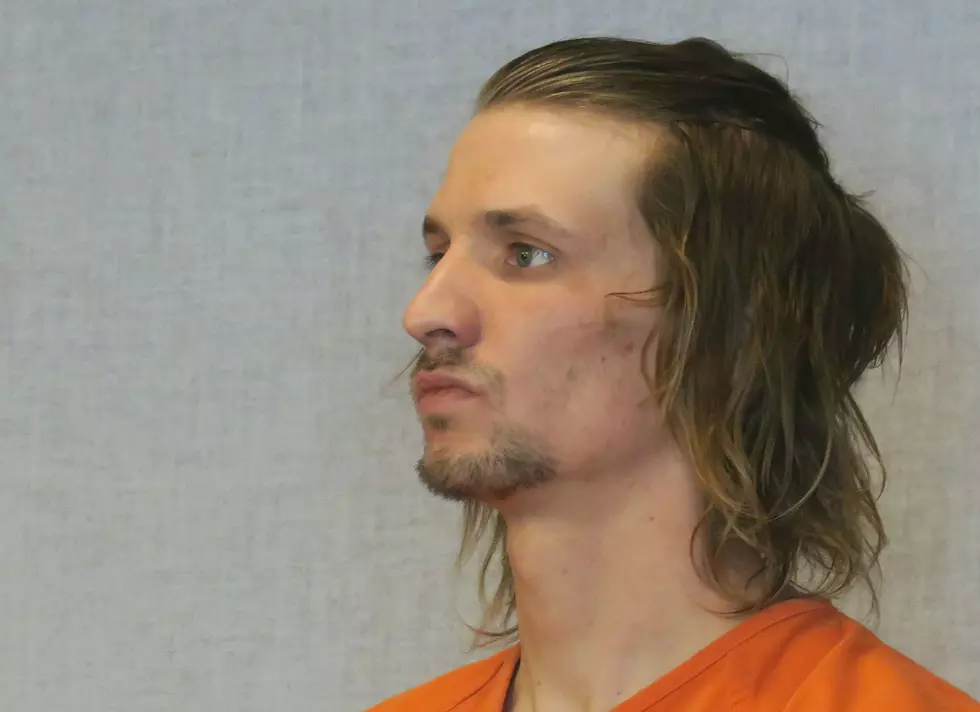 Casper Man Charged With Murdering Mother Indicates He May Testify
Tom Morton, Townsquare Media
A man charged with felony murder in the shooting death of his mother indicated he may take the stand in a jury trial.
His defense attorneys don't dispute that Andrew Steplock shot and killed Deborah Steplock. Instead, they argue that he was mentally ill at the time of the incident. A psychologist who evaluated Andrew Steplock testified that he wasn't mentally ill at the time. 
Prosecutors rested their case Thursday afternoon during the five-day trial in Natrona County District Court.
With jurors gone from the courtroom defense attorney Joseph Cole said Andrew Steplock would like to testify.
As District Court Judge Daniel Forgey was telling Andrew Steplock he had the right to remain silent and couldn't be forced to testify, Cole stood up and said his client wanted more time to "practice" with before taking the stand. By practice, Andrew Steplock said, he meant discussing possible testimony with his lawyers. Andrew Steplock is expected to testify Friday if he does so.
Forgey said they can revisit the matter in the morning. It's uncertain if Andrew Steplock will take the stand, but it appears increasingly likely after Thursday's hearing.
Thursday afternoon, prosecutors' final witness took the stand.
Dr. Michael Burson, a forensic pathologist, conducted an autopsy on Deborah Steplock in the days following her shooting.
Jurors viewed photos that showed small dots on Deborah Steplock's hands and the left side of her face.
Burson testified that those dots, or stippling, are caused by being 6 to 18 inches away from a gun when it's fired. Because she had stippling on her hand, Burson said Deborah Steplock must have had her hand up near her head.
Natrona County District Attorney Dan Itzen introduced photos from the autopsy. Burson used them to demonstrate that Deborah Steplock died from a gunshot wound to the head.
"What was the manner of death," Itzen asked.
"Homicide," Burson replied.
Thursday afternoon, Cole called the defense's final witness of the day: Elizabeth Steplock, Andrew Steplock's sister.
From the stand, she said she talked to Andrew Steplock on February 25. She'd recently provided money to bail Andrew Steplock out of jail on a possession of marijuana charge.
Elizabeth Steplock described Andrew Steplock growing up as a brother who was protective of his sisters.
Then in his early 20s, Andrew Steplock started to change.
He grew distant from his family. He stopped coming to family functions. His family worried.
The only family member Andrew Steplock remained close with was Deborah Steplock, his sister said.
But Deborah Steplock didn't like her son's random visits to his parents' house.
When he was still incarcerated at a county jail in northern Colorado, Andrew and Elizabeth Steplock talked on the phone. Under cross-examination, Elizabeth Steplock said her brother never discussed demons with her in that conversation.
When Cole took his turn for redirect, Elizabeth Steplock testified that her brother did say he was out of his mind following the shooting.
The trial will resume Friday at 9:30 a.m. Andrew Steplock would be the final person to testify if he chooses to do so. Closing arguments will follow.
Enter your number to get our mobile branded app