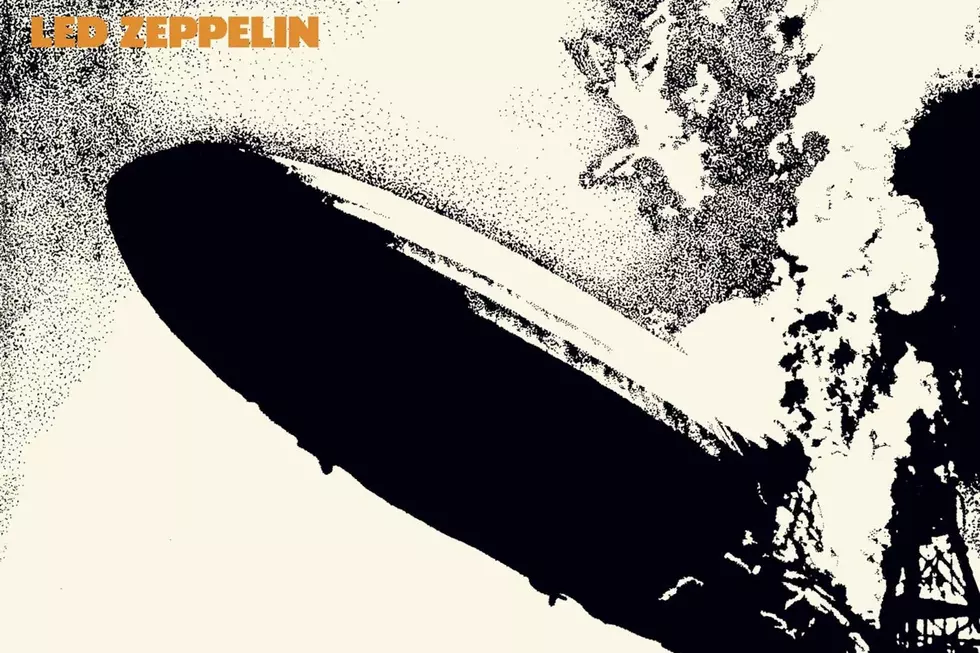 How Led Zeppelin's First Album Became a Hard Rock Paradigm
Atlantic
Led Zeppelin's eponymous debut is an album full of firsts. Released in the U.K. on Jan. 12, 1969, Led Zeppelin may not match the historical stature of Sgt. Pepper's Lonely Hearts Club Band, but it remains the prototypical hard-rock album. It also could well be named the first album of the '70s, aesthetically speaking – and it's certainly one of the first watershed albums released after the Beatles' Technicolor masterpiece changed, well, everything.
Less than six months earlier, guitarist and Led-leader Jimmy Page was still figuring out what to do about the fast-disintegrating Yardbirds – and his career, in general. His old band's demise, though it had in fact been coming for quite some time, was finally made official in August 1968. That left Page with nothing but the legal rights to the Yardbirds name and the responsibility of recruiting new musicians capable of fulfilling a slew of pending Scandinavian tour dates.
The sequence of events that followed in quick succession still defies belief. "My whole life is moving so fast at that point. Absolutely just a roller-coaster ride," Page told the Chicago Tribune in 2018. "I just knew what way to go. It was in my instinct."
Page quickly assembled an updated lineup featuring Robert Plant, John Paul Jones and John Bonham. They "got together in this small rehearsal room and just played 'Train Kept a-Rollin," which was a number I used to do with the Yardbirds, and I think Robert knew it," Page told Rolling Stone in 1990. "At the end of it, we knew that it was really happening, really electrifying. Exciting is the word. We went on from there to start rehearsing for the album."
Even decades later, Jones still sounded taken aback by the sounds they made that day. "Just instant 'This is fantastic,'" he told CBS' Anthony Mason in 2012. "And just like, whoa. The room exploded." But first came those previously scheduled September 1968 dates, which gave the group – who were still billed as the "New Yardbirds" – a much-needed opportunity to try out new material and test their mutual on-stage chemistry. By October, they were busy recording these new songs at London's Olympic Studios for the bargain-basement budget of £1,782.
Listen to Led Zeppelin Perform 'Good Times, Bad Times'
"I wanted artistic control in a vise grip, because I knew exactly what I wanted to do with the band. In fact, I financed and completely recorded the first album before going to Atlantic," Page told Brad Tolinski in Conversations With Jimmy Page. "The other advantage to having such a clear vision of what I wanted the band to be was that it kept recording costs to a minimum. We recorded the whole first album in a matter of 30 hours. That's the truth. I know, because I paid the bill."
That November, and with the help of strong-willed manager Peter Grant, the newly rechristened Led Zeppelin signed a contract with Atlantic Records guaranteeing unprecedented control over their career direction. Led Zeppelin was released across Europe early the next year.
Needless to say, much of the record's unique appeal – then and now – emanates from the unbelievably brisk and volatile conditions under which it was created. Therein lies the source of the raw, spontaneous energy that crackles out of its nine combustible tracks, and which determined that Led Zeppelin would become the measuring stick by which all future hard rock albums would be compared.
"It had so much weight, so much power, it was devastating," Plant told Cameron Crowe in 1993. "I had a long way to go with my voice then, but the enthusiasm and sparking of working with Jimmy's guitar – it was so raunchy. All these things, bit-by-bit, started fitting into a trademark for us."
What's more, thanks to the unparalleled creative freedom that Jimmy Page demanded from Atlantic prior to signing on the dotted line along with his band mates, those same nine songs already revealed a band willing to adapt music of every stripe to achieve their high-decibel goals.
Listen to Led Zeppelin Perform 'Dazed and Confused'
There's brutish, thunderous hard rock ("Good Times, Bad Times"), sensitive neo-folk rock ("Babe I'm Gonna Leave You"), lustful Delta blues ("You Shook Me"), nightmare-inducing art rock ("Dazed and Confused"), a vengeful wish softened by hymnal gentility ("Your Time Is Gonna Come"), some percussive Irish instrumental folk ("Black Mountain Side"), euphorically heavy, post-garage proto-metal ("Communication Breakdown") and more blues of both the condensed ("I Can't Quit You Baby") and epic variety as they cobbled spare parts from rock's earliest roots to birth a powerful, modern amalgam ("How Many More Times").
If all this comprised the opening salvo of the hard-rock era, is it any wonder so much diversity would eventually fall under that all-too-limited heading? Or that such a small number of future bands came anywhere near to challenging Led Zeppelin's amazing versatility?
Much of it initially sprang from Page's fertile, incredibly fast-moving imagination. "When the Yardbirds folded, for example, I had 'Dazed and Confused.' In the way that it's heard on the first album, that whole construction of it," Page told Absolute Radio in 2014. "'Babe, I'm Gonna Leave You,' I had a whole outline for that. 'Your Time is Gonna Come,' I had the chorus. 'Communication Breakdown,' I had the riffs and I had a chorus. I didn't have all of the verses, because I didn't necessarily want to be writing all of the lyrics."
That's where Plant, the mystic swordsman, came in. Together with Bonham's foundation-rattling rhythms and Jones' do-anything musicianship, Led Zeppelin forged a fresh musical alchemy.
"What we had was chemically very interesting," Plant told the Los Angeles Times in 1988. "We were using an old formula. It's just the way some of the chemicals reacted together: They fizzled and popped in a different way. When we were together that's what happened."
The well-traveled Page had found the yin to his yang. "There was never the communication between myself and another vocalist that we had together, you know?" Page told Yahoo in 2019. "It was very intuitive. I threw an idea at Robert, and he'd know what it was straight away — and vice versa."
Led Zeppelin quickly breached the Top 10 in both the U.K. and U.S., where it was unveiled two months later. It also opened the door for countless bands, from Black Sabbath to Deep Purple, who then threw commercial caution to the wind and turned their amplifiers up to 11. Rock would never be the same. But somebody had to get there first – and that was Led Zeppelin, with this enduring classic of a first album.
Top 10 'Leftovers' Albums
Odds-and-ends projects are often overlooked but in time some of them have come to be valued – and in some cases, essential – parts of these artists' catalogs.
Denis Leary Doesn't Understand Why Led Zeppelin Won't Reunite