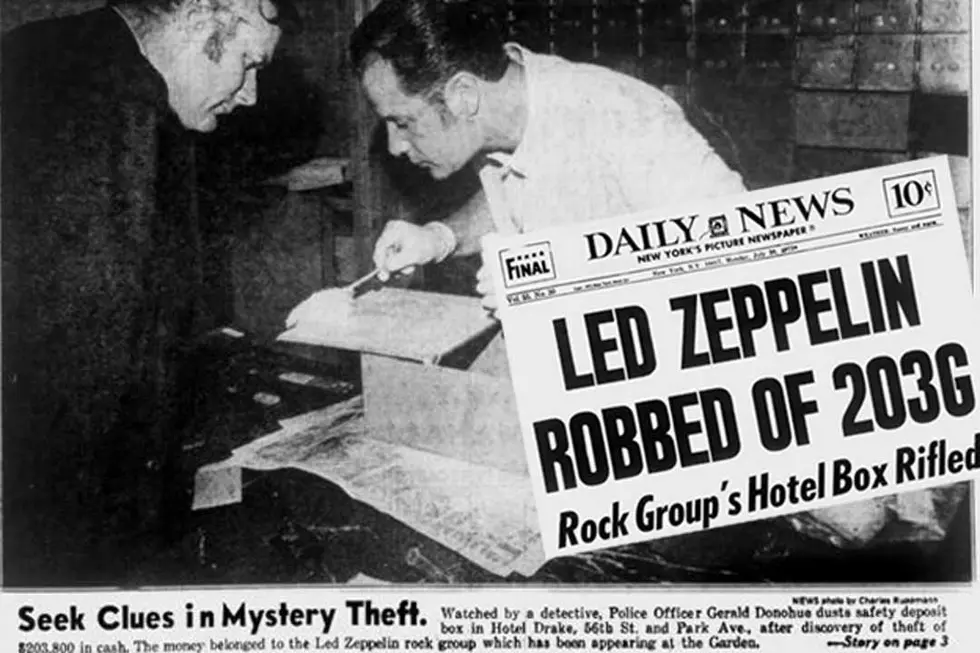 When Led Zeppelin Were Robbed of $200,000
Daily News
On July 29, 1973, Led Zeppelin had more than $200,000 in cash stolen from a safety-deposit box at their New York City hotel. Hardly a crippling loss, seeing as how it came near the end of a tour that grossed more than $4 million. But it was almost a sign that the legendary group's career had peaked and more troubles were on the way.
Starting on May 4, Led Zeppelin began tearing their way across the U.S. on their most ambitious tour ever. By the end of the run, more than 30 cities in 20-plus states (plus Vancouver) were systematically conquered by Zep's high-decibel onslaught. Along the way, decades-old attendance records were shattered, new box-office high-watermarks were set and countless minds were blown by the sheer, devastating power of Jimmy Page, Robert Plant, John Paul Jones and John Bonham firing on all cylinders.
To commemorate and capitalize on this success, Zeppelin's management team decided to shoot footage of the tour's final three-night stand at New York's Madison Square Garden. And even though it took three years and some legal maneuvering, the performances would eventually arrive in movie theaters and record stores as 1976's The Song Remains the Same.
But how did $200,000 mysteriously vanish from the band's not-so-safe-deposit box at the luxurious Drake Hotel sometime between the second and third concerts? According to tour manager Richard Cole, all of the money was accounted for when he checked the box around 1AM on July 29, but it was nowhere to be found when he next opened it around 7:30PM.
Neither police nor hotel detectives could find evidence that the box had been forcibly tampered with, and Zeppelin's management seemed almost reticent to press the matter further, given the nebulous origins of the vast amount of cash involved. According to newspaper accounts from the period, Cole told detectives that the money in question was proceeds from the current tour and was kept on hand because the band had "a lot of expenses to pay."
The robbery has never been solved, but whoever took it at least left the five passports inside the box so the band could make its way back to England and recuperate from the long trek across the states. Led Zeppelin may have gone home a little poorer than they expected to, but the truth behind the 40-year-old mystery might have been way more costly than $200,000.
See Led Zeppelin Among Rock's Strangest Deaths
You Think You Know Led Zeppelin?