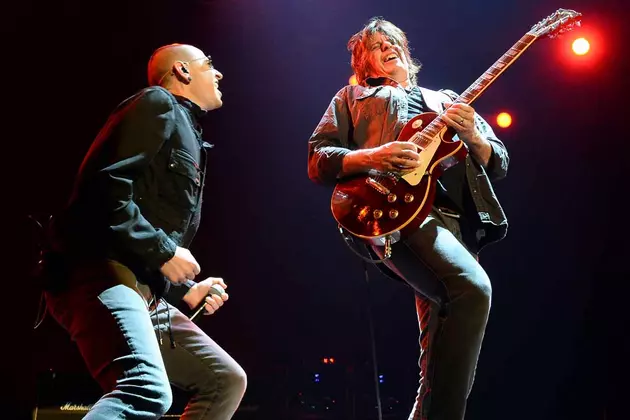 Stone Temple Pilots Made Chester Bennington's Kids Cry
Ethan Miller, Getty Images
Chester Bennington has revealed that he left Stone Temple Pilots because his involvement with the band was upsetting his kids.
The Linkin Park frontman replaced Scott Weiland in 2013 and recorded the five-track EP High Rise with original STP members Dean DeLeo, Robert DeLeo and Eric Kretz. But despite describing it as his dream job, Bennington left in November 2015 – just weeks before Weiland's death of a drug overdose.
"I have the highest respect for Stone Temple Pilots," Bennington told Q104.3. "I love Scott. I'm sad that he's gone. I've seen Stone Temple Pilots play probably 30 times. They made music that I absolutely loved, and I still love to this day. The chance to perform those songs with those guys was very, very cool. Robert, Dean and Eric are super-talented. The only reason I'm not doing it now is because my kids would cry every time I'd go on the road with STP."
Bennington explained that when he left to tour with Linkin Park, his kids understood. "But when I'd leave with STP, they'd cry," he said. "I think they thought I was choosing to do that over being at home with them. It was just too hard on my family. So I was like, 'You know what? I've got to stop being selfish here. When I'm not doing Linkin Park, I've got to be at home with my babies.'"
The singer pointed out that he still performs with Stone Temple Pilots occasionally, and considers himself lucky to have been part of two popular bands. "I've had the privilege of being in Linkin Park, around a bunch of geniuses," he said. "I got to be in Stone Temple Pilots and be around a bunch of geniuses. I just sit back and ask myself, 'How did I get here?'"
Last year, Stone Temple Pilots held auditions to find a new singer, but in November they rejected rumors that they'd appointed someone.
Masterpieces: The Very Best Albums From More Than 100 Classic Rock Acts